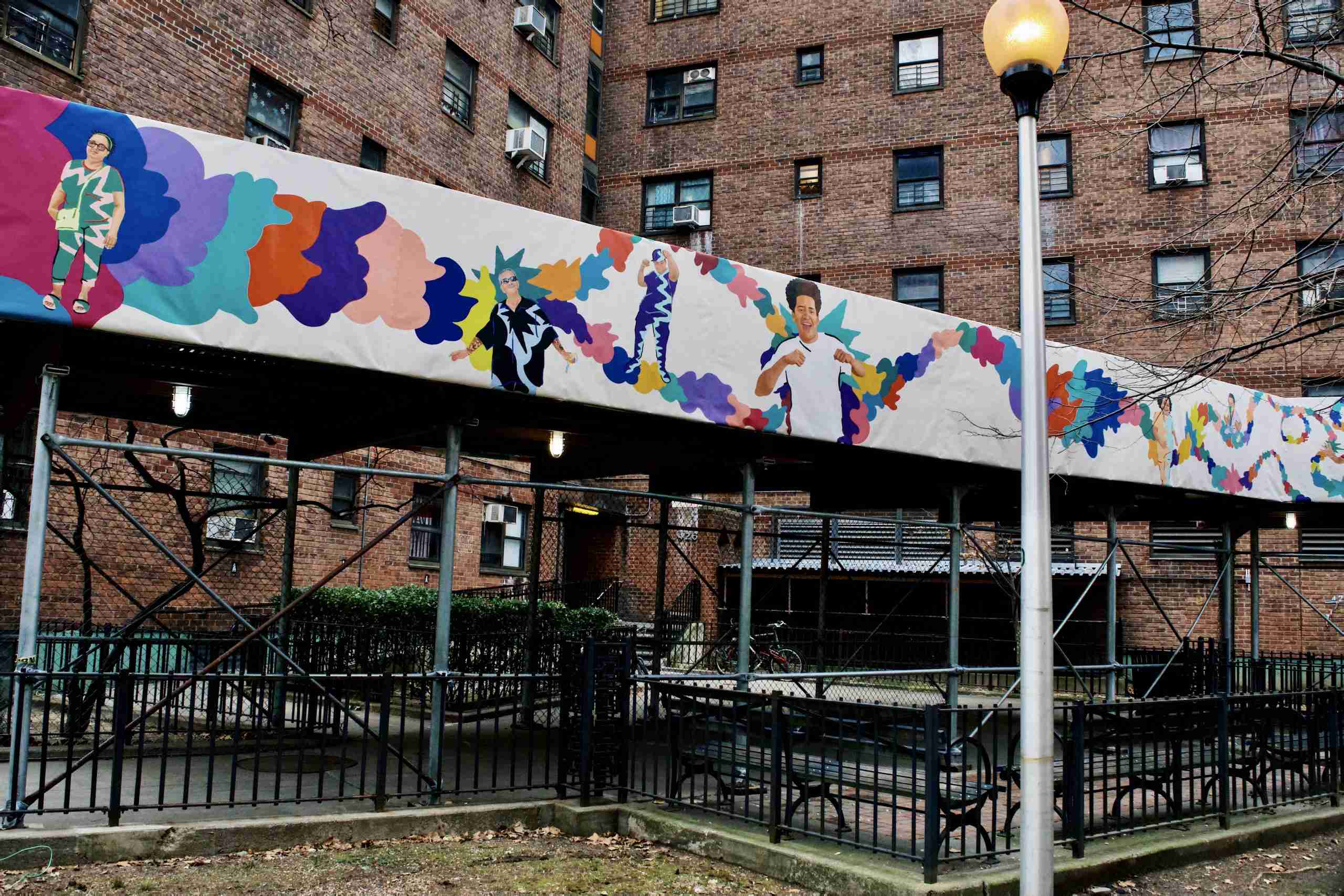 Overview:
ArtBridge is one of several nonprofit organizations selected to implement City Artist Corps -- a Mayor's Office initiative that will fund hundreds of artists to culturally revitalize NYC as it emerges from the pandemic. ArtBridge's component of City Artists Corps will consist of a large-scale expansion of our ongoing program, Bridging the Divide -- artists fellowships at New York City housing Authority (NYCHA) developments throughout the city, in which artists design public artworks that reflect the lives, histories, cultures, talents, and aspirations of NYCHA residents.
While COVID-19 has dramatically impacted all New Yorkers, NYCHA residents have faced disproportionate resulting economic hardship, with 48% of NYCHA households reporting temporary or permanent income loss. Now, more than ever, we believe that the voices of NYC's NYCHA communities need to be heard.
With this program, we aim to partner hyper-local artists with NYCHA developments -- and especially artists who live in those developments. Artists and residents will work together to find ways that public art can best capture their voices, challenges, needs, talents... or anything else that residents want represented.
Artworks will be affixed to construction fencings/sheds that are currently up at each of the locations, remaining on display for 5 to 8 months. Exhibition sizes will vary between 100 to 250 linear feet per artist, at between 4 feet and 8 feet tall.
Permits for these exhibitions are made possible by the City Canvas pilot program via NYC's Department of Cultural Affairs and Department of Buildings, and also ArtBridge's ongoing partnership with NYCHA.
Key details:
Submission deadline: June 28 at 11:59pm. Free to apply.
We aim to select 60 artists to implement this program at 30 sites (2 at each site).
This program will run from now through December 31, 2021. Some sites will initiate immediately, others in the late Summer and early Fall.
Artist stipend: $6,000 per artist. ArtBridge will additionally cover all expenses -- artwork fabrication, installation, maintenance, and programming supplies for workshops with residents. If artists hand-paint their installed works, additional compensation will be provided.
Selection process: ArtBridge will narrow down applicants to a pool of 5 finalists for each site. Residents at each site will then vote to select the two artists.
Artists who live in NYCHA housing or have strong connections to specific NYCHA communities will be prioritized.
Selected artists will work with residents over a period of 4 to 6 weeks, and will be expected to conduct at least 5 sixty minute-long workshops. Selected artists will design and lead these workshops, implementing them in collaboration with ArtBridge, local community partners, and NYCHA residents whom ArtBridge will hire at each site to facilitate engagement.
Artists will design new/original digital artwork files that directly result from this engagement with residents, and that comply with the City Canvas pilot program guidelines.
Optionally, artists can choose to hand-paint their installation on polytab fabric; in which case artists will be compensated more than the base level $6,000, in proportion to the amount of square feet that is painted.
Artists can choose to work individually, or collaborate to produce their artwork with the other selected artist at their site.
You can be selected as a (top 5) finalist for multiple locations. However, ultimately you can only be selected to work at a single location.
Artists can work in any medium that readily translates to 2D printing on vinyl or hand-painting.

Questions? nycha@art-bridge.org or call/text 646-450-1463
Thanks so much for your interest in volunteering with ArtBridge! We frequently have opportunities for folks to lend a hand, from assisting with mural projects to helping to ensure a smooth fundraising event. Please fill out the form below to sign up for volunteer opportunities!
ArtBridge is now accepting art on an ongoing basis. Your submissions will be considered for all ArtBridge exhibitions that do not have sufficient time for an open call. You may submit here while simultaneously submitting the same, or different, works to specific ArtBridge projects.
You may submit as many individual pieces or series as you see fit. Series must not exceed ten images.
All genres of art, except film/video, are allowed (though film/video stills are permitted).
Images should measure approximately 800px on their longest side and saved at roughly 72dpi (neither has to be exact).